Gold in Business



In using the color gold in business applications you need to understand the traits, qualities and mood of the color along with the psychological meaning. The messages the color sends to your customer base can have a major impact on your business success.
Psychologically it is seen as the color of inner wisdom, quality and wealth. It is associated with prestige, luxury and material wealth, suggesting that a product or service is expensive and exclusive.
Physiologically, it can induce great feelings of happiness and bliss or alternatively, deep anxiety and fear.
It implies generosity of time, money and spirit. It is the color of victory, hence the use of gold medals for winners.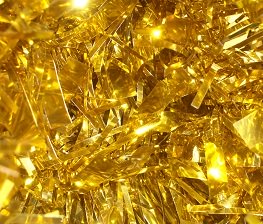 When used with purple it can indicate wealth and beauty, and is associated with expensive luxury items. Used with dark blue it suggests honesty, trustworthiness and success. Used with black it suggests extreme opulence, elegance and wealth. Using it with white creates an elegant impression.

For more on the psychology of the color gold……
---
Keywords for Gold in Business
---
Positive Color Meanings in Business:
wealth and prosperity, abundance
value, quality, luxury, expensive, opulence
victory, achievement, grandeur, importance
happiness, beauty
excellence, prestige, nobility, extravagance
attraction, wisdom
Negative Color Meanings in Business:
pretentiousness - a sense of self-importance
intense and overwhelming
---
---
Using Gold in Business
---
Businesses marketing items of high perceived value will benefit from the use of gold in their packaging and marketing. However it doesn't translate well onto websites - it becomes a dirty yellow which generally does not give a positive message.
Using it with navy or black are good choices when selling quality products to men, whether it is used in packaging, promotional materials or on a website. Just be aware of how it transcribes onto your website.
Combined with dark red, dark blue or dark green it imparts a message of quality, wealth and prestige.
For more on using color in your business
---
For more on using these colors in your business:  red, orange, yellow, green, turquoise, blue, indigo, purple, magenta, pink, silver, black, white, gray, or brown.
---
To return from Gold in Business to the Home Page
Like to join our Facebook community?
---