About Me

My name is Judy Scott-Kemmis and I am the creator and author of this site.  
In writing about me, I have to firstly mention my children as they are my true inspiration in everything I do. I have three beautiful adult children, two girls and one boy. All three now live and work in Sydney with their partners, after much overseas travel. And now with the addition of four grandchildren, one beautiful granddaughter and three gorgeous grandsons, including twins, I feel truly blessed and inspired!
I currently live in a beautiful leafy part of Sydney, Australia, although I grew up near the ocean in country New South Wales and love returning there to visit.
About Me and My Fascination with Color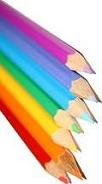 My fascination with color probably began when I was very young with the colored pencils I loved to use as a child. I can still remember the beautiful fluorescent-like apple green pencil that I used until it was so tiny I couldn't hold it anymore! Of course fluorescent colors weren't available then but this green was similar to the fluorescent ones available today. And I still love this color today; in fact, although I really love all colors, it is probably my favorite color, along with purple and deep pink.

When I divorced in 1985, I had a "color analysis" done by Lynn Champion, a beautiful and inspiring lady who subsequently became my good friend. I was amazed at the difference this color analysis made in my life and to my self confidence so I trained to become a color consultant with "Beauty For All Seasons". I watched people's lives change as they discovered how to use color to enhance their appearance. They found it easier to shop for clothing and easier to put their "look" together. In many cases it transformed their lives, making them look younger and more vital, and increasing their self confidence.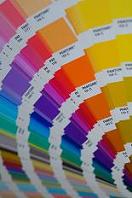 My Introduction to Color Psychology
Around this time, about 33 years ago, I was introduced to color psychology and the meaning of colors, by another color consultant. My passion began!!! Endeavoring to learn as much as I could about all aspects of color, I enrolled in a color and design course, at the International School of Colour and Design in Sydney, and completed an amazing three year course where I also discovered a love of creating beautiful and colorful art designs.

From 1998 to 2000 I wrote a book with my colleague and friend Lynn Champion, called "The Colour of Sex".  Our book, subsequently published in 2000, was filled with information about using color to improve intimate relationships. There was actually no information about sex in the book, but it was a great title to get noticed by the publisher, the TV stations and the radio network - we did interviews on both radio and television all over Australia. The original book is now out of print, although I do have a small number of copies still available. Now it is currently available as an updated and downloadable ebook - see column at right.

Wherever I go I meet people who love finding out about color and what their favorite color says about them, or what color they should use in a particular situation. Color psychology is a topic that creates a lot of interest.

I hope you enjoy learning about color psychology, and how to use it to empower yourself, as much as I am enjoying creating this website for you. Any feedback you can give me, or any experiences with color you would like to share would be invaluable to me. Please go to Contact Me

Help me spread the knowledge and understanding of color psychology to empower as many people as possible by sharing this website with all your family and friends.
And remember:
      let color inspire you and keep coloring your life!!!
Judy Scott-Kemmis (B.SocSc)
---
To return from About Me to the Home Page
---
Like to join our Facebook community?
---